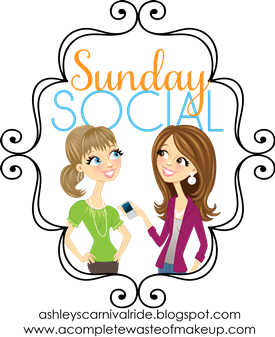 Hey everyone! This week I've decided to link up and do a "Sunday Social." This weeks questions are music-based. Feel free to join the link-up party for yourself. Lets get started!
What is your all-time favorite song?
I love the song "Apologize" by One Republic and lately "Sail" by Awolnation. Every time I hear those songs I want to dance!
What is your favorite singer/band?
I really love all of Kelly Clarkson's songs! There's not a single one I dislike.
What is your theme song/song that best describes your life?
"Because of You" by Kelly Clarkson
What songs put you in a good mood?
"Girls Just Wanna Have Fun" by Cyndi Lauper
"Super Bass" by Nicki Minaj
What is your favorite roadtrip music?
When on a road trip, I only like to listen to songs I can sing to- it keeps me preoccupied. lol
What song are you embarrassed to admit you love?
"Shake Your Bon Bon" by Ricky Martin
"I Saw the Sign" by Ace of Base
Pin It